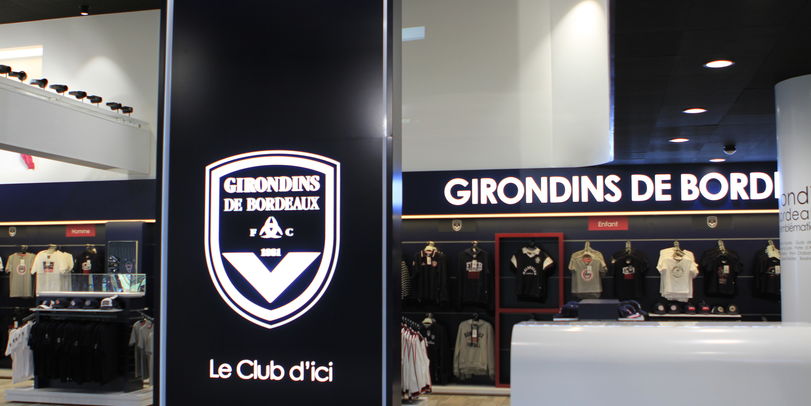 The Girondins Gallery
Le Projet
L'équipe bordelaise composée des designers FELIX+ASSOCIES et des agences d'architectes d'intérieur YF AAIDG (mandataire) et Beuneiche conçoit et réalise "La Galerie Girondins". Il s'agit d'un concept store de 700 m2, unique dans le milieu du football et dédié à l'identité girondine, au Club des Girondins et à son environnement.
Cet espace créé dans le tout Nouveau stade de Bordeaux Mamut Atlantique a été inauguré le 23 mai 2015.









The Bordeaux team, made up of the Félix et associés designer, and the YF AAIDG (agent architect) and Beuneiche interior designer agencies designed and created "La Galerie Girondins". This concept store of 700 m2 is unique in the football world, and dedicated to the Girondins' identity, the Club des Girondins, and its environment.
This space was created in the brand new Bordeaux Matmut Atlantique stadium and inaugurated on 23rd May 2015.

The objective of the designers was to create consumer's experience, between customer path, brand experience and merchandising.
The team translated the "Girondins' Spirit", sporty and off the wall, deeply rooted in the South West region, in their design of spaces, furniture and retail for the FCGB (Football Club Girondins de Bordeaux) brands: PUMA, the club's sports partner, SCAPULAIRE and GIRONDINS.
La Galerie Girondins is situated on the ground floor, on the South side of the stadium. Four mini-boutiques were also installed in the general public walkway on level 3, on the four cardinal points.
This space organisation allows the club's fans, visitors, tourists, and football-lovers in general to continue their sport experience by immersing in the FCGB (Football Club Girondins de Bordeaux) brand.
Design: Félix et associés, YF AAIDG, Agence Bernard Beuneiche
Thanks to our partners: SPN, ASA Agencement